How to order your own gift Caricature (Comic Portrait).
It is very simple, you don't even have to leave your chair or wait in a queue! Follow these 3 easy steps:
Step 1: Use the "Enquiry Form" on this page to let us know when you want your Caricature and what Option/s you want.
Step 2: We will confirm by email (no obligation) the price and that we can have it to you for your required date. You fill out the Order Form ( the link for which will be included in the email we send you). Email your photos and make payment. You then simply sit back till it arrives on your specified date.
Step 3: You present the superb personalised original artwork to the overjoyed recipient and immediately have praise and love showered upon you! Easy!
You can get me to create whatever you have in mind or leave it totally up to me. Each caricature is a completely original piece of artwork – no templates here. You can include extra people and as many details as you want. I create caricatures for individuals, couples and groups. 
You get the Original Artwork AND a FREE Bonus Digital Copy! You give the original and get a free digital copy to keep for yourself.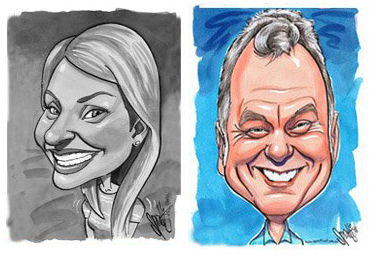 A. Head & Shoulders
B/W A4 size or Colour A4 size. Can include short caption.
(eg. Happy Birthday, Farewell etc.)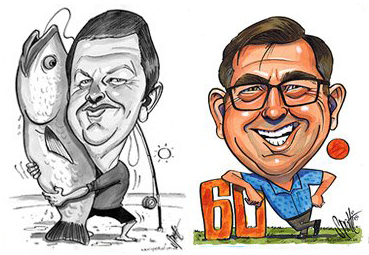 B. Full Body
B/W A4 or B/W A3 size – Colour A4 or Colour A3
Includes 1 person and 1 detail, no background.
C. Full Body & Background
B/W A4 or B/W A3 size – Colour A4 or Colour A3
Includes background, 1 person and 2 details, pets etc. (examples above show 8 details).
A2 size also available – please contact me for details.
Additional people and extra details will be an additional charge. Details can include favourite sayings, hobbies, occupation, favourite drink, pets etc. Note: Each individual item is classed as one detail eg. Detail 1 – dog, Detail 2 – cat, Detail 3 – Favourite drink, etc.
The Perfect Gift At The Right Price
Here's what you receive with a personalised caricature:
Original Painting
Hand Painted
Fully Customised Artwork (no templates)
FREE Bonus Digital copy
Why Spratti Caricatures are better!
Each Caricature really looks like the person.
I only create caricatures that are worth giving and worth receiving.
You receive the original hand-painted artwork to give PLUS we send you a FREE digital copy to keep.
The subject is depicted in a fun not a grotesque style.
Trusted Australian business (Est. 1995) – Service and Delivery guaranteed.
---
"Spratti is just Brilliant. Fast, efficient, convenient, listened, and came up with the goods. Our friend Paul was blown away, Spratti captured him beautifully – highly recommend."
Marty
Before you go have look at some more of my 60th Birthday examples below and be sure to check out my Customer Reviews