An unforgettable landmark 40th gift for those who are hard to buy for or who have everything!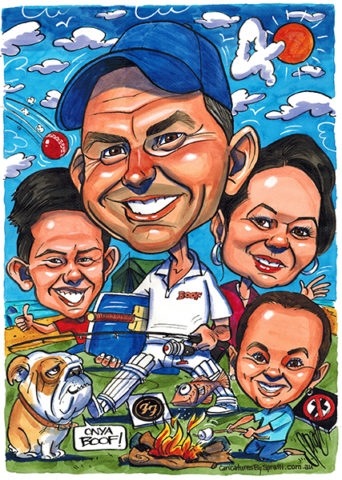 Celebrate the life of that special person turning 40 with one of my unique customised birthday gift caricatures (comic portraits). All my artwork is totally original, drawn and painted by hand from photos so it is guaranteed to be a complete surprise. You can make it as personalised as you like by including all the things that make them special. Creating something they will treasure for ever. My Caricatures make the ideal gift, especially for that person who is hard to buy for or who has everything.
You will give the gift that everyone else will wish they had given. One that you are proud to present, one they are blown away to receive and are thrilled to display on their wall for years. The gift that shows a lot of thought has gone into it…. so much more original than socks and jocks (Yawn)!
Need it Fast – no problem! How do I order my gift caricature? read more
Before you go have look at some more of my 40th Birthday examples below and be sure to check out my customers reviews  Click here.
40th Birthdays
3 Easy Steps To Giving The Best Birthday Gift!
Follow the list below for a piece of original art that's all about your special person.
Something that will go on the wall and every single time they see it they'll remember it was you who took the time to give them such a unique gift.
the absolutely perfect gift
| | | |
| --- | --- | --- |
| 1 Go to the "Get a Price" page click the "Order Now" button. | 2 Fill out the order form selecting the option you want. | 3 You present the superb personalised original artwork to the overjoyed recipient and immediately have praise and love showered upon you! Easy! |
These People Gave The Perfect Gift!
"I just wanted to let you know that I am so impressed and pleased with my dads 60th caricature!! It just made me smile as soon as I opened it, you have captured my dad brilliantly. I am so excited I can barely wait to give it to him! I cannot thank you enough, Im really pleased with the quality and I am more than happy to recommend your services! Michele, you were fabulous in helping me organise this, with very limited time available as well!"
Kelly
"Spratti so impressed with how you captured Glen based on the details we gave you. We were absolutely delighted. It was a wonderful surprise to receive our artwork and see the results! Your art is a self-recommendation to those who see it. Great fun to see our son's reaction at his 21st. Glen thought it awesome! He laughed and enjoyed the humour. He was enthralled with the details shown in the caricature. Friends said they would definitely want to have such a unique memento."
Wendy S
"Phil, you're amazing! My husband Tony was blown away by his 50th present and the level of detail included in the artwork. All his favourite things & sayings – he absolutely loved it and said it was his best present ever! You and Michelle are the best and made the whole process so easy! Thank you so much."
Natalie B